AutoCad 2019
AutoCad 2019 is the software released by Autodesk in April 2018. This is the most significant and hugely optimized version by the company. Help you maximize your productivity with powerful support from professional toolset and built-in libraries. Support many different industries such as: mechanics, architecture, 3D mapping…
In addition, CAD 2019 also helps users to view drawings faster and more conveniently by supporting drawing viewing with the latest web and mobile applications. Take advantage of new features to improve productivity and quality of work. In addition,
The biggest and most notable update of AutoCAD 2019 is that it gives access to 7 toolsets: Architecture, Mechanical, Electrical, 3D Maps, Raster Design MEP and Plant 3D, which we previously had to access each and every time. toolsets separate, now integrated into one. Additionally, it is now also available to read AutoCAD mobile drawings available on Windows phones and tablets. Android and iOS. You can download the DWG file for viewing without the Internet, which is very convenient.
Features of AutoCad 2019
New Icons: The icons and status bar have been refreshed, giving you quick access to the general toolbars and toolbars on AutoCAD 2019
Easily share your projects in CAD 2019: Anywhere you can access to view, comment or delete views, or extend beyond 30 days, for example.
Performance has been greatly improved to help AutoCAD 2019 32bit or 64bit software efficiently handle external files. Typically files: xrefs, font files and other ancillary files, etc.
The UI Finder help system has now been added to most of the dialog themes on the copyrighted AutoCAD 2019. As a result, you can identify dialog box links right in the user interface by clicking the command icon at the top of the dialog topic in the Help System to find the original command. For example, you can find the Insert Dialog box in the INSERT command on CAD 2019.
Data safety and security: Autodesk always encourages their users to update to the latest versions of AutoCAD 2019 to avoid external threats.
Support saving to AutoCAD Web & Mobile: In any location, you can open and save drawings online with Autodesk Web & Mobile when your computer, Smart phone, ipad, … has an internet connection.
View, create, edit and share CAD drawings on your mobile device.
An improved visual experience with new and improved 4K flat design icons.
Import geometry, including SHX font files, fills, raster images, and TrueType text, into drawings from PDF.
Access your favorite tools – when you need them – with the AutoCAD ribbon.
Easily access frequently used content and tools with customizable tool panels.
Run commands and respond to prompts via simple keystrokes, right at the command line.
Easily reshape, move, or manipulate geometry with clamp editing.
Save and restore workspaces with custom menus, toolbars, palettes, and ribbons.
Displays a shortcut menu for quick access to commands related to your current activity.
Control transparency for selected objects or for all objects on a layer.
Create realistic 3D models of your designs using a combination of solid, surface, and mesh modeling tools.
Use the 3D view and navigation tools to orbit, rotate, walk, and fly around a 3D model to showcase your design.
Create 2D drawings including base, projection, part, and detail views from 3D models.
System requirements of AutoCad 2019
Operating system

Microsoft® Windows® 7 SP1 with Update KB4019990 (32-bit & 64-bit)
Microsoft Windows 8.1 with Update KB2919355 (32-bit & 64-bit)
Microsoft Windows 10 Anniversary Update (64-bit only) (version 1607 or higher)

CPU: 2.5–2.9 GHz or higher
RAM: 4GB
Screen: 1920 x 1080 with True Color or larger
Graphics Card: 1 GB GPU with 29 GB/s Bandwidth and Compatible with DirectX 11
AutoCad 2019 Free Download
AutoCad 2019 32bit + 64bit
Autodesk Collection
AutoCad 2019 Product Key
Serial: 666-69696969, 667-98989898, 400-45454545
Code: 001K1
How to install AutoCad 2019
Turn off anti-virus software (Note also turn off Windows Defender)
Extract the downloaded file
Run the sfx file (Autodesk's standard compressed file so it is very light) and choose where to extract the software installer
Run the Setup file in the extracted section
Just instal and wait for it to run
After running, we turn off the network first and then press Lauch(Open Software)
Select Enter Serial Number
Select Active > enter Serial Number > Next > Request an activation code using an offline method > Next > Back >> Back
Unzip Crack File and Run As Administrator
Copy Request Code paste it into Crack File > press Generate >> Patch >> Copy Activation Key and paste it into the software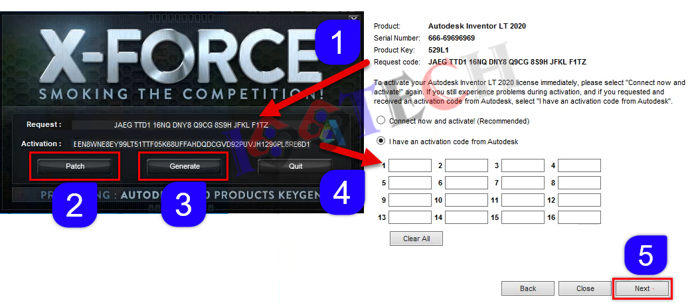 Copy Request Code to X-force
Press Generate
Press Patch
Copy Activation Key and paste it into the software
Next

Re-open the internet and access software normal. Good luck
Finished, watching Windows 10 – 64bit video test