Autodesk Alias Surface 2021
Autodesk Alias ​​Surface 2021 is a computer-assisted industrial design software (CAID) mainly used in Automotive Design and Industrial Design to create type A surfaces by means of Bézier and NURBS surface modeling methods. .
Autodesk Alias ​​Surface industrial design software supports your creative process with a range of drafting, modeling, surface and visualization tools. Create attractive designs with tools that match industrial design, automotive design and surface engineering. Get the advanced capabilities you need, from initial concept sketches to developing production-ready Class-A surfaces.
Create parametric control surfaces in Alias ​​Surface with Dynamo integration. Quickly create complex repeating patterns and enable quick iterations and design discoveries. Sketches from Photoshop can be associated with Aliases. Any changes to the sketch are dynamically updated in the Alias.
The software allows creating 2D sketches and rendering and it features the use of a modern Cintique Tablet. This digital process opens up a whole new world of image creation. Unlike software such as Photoshop, Alias ​​allows the use of 3D package data (curves, solids, surfaces) to give the process of drafting support in real 3d dimensions.
An interesting effect of using 3D packet data appears when the same design has to be drawn and presented in different perspectives. Basic 3D package helps to keep perspective view accurate and realistic.
Design doesn't always start with conceptual sketches on paper. Sometimes designers get started with physical clay models. Sometimes customers want to redesign a part of an existing model. In this case, physical models can be scanned and imported into Autodesk Alias ​​Surface.
Features of Autodesk Alias Surface 2021
Simplify similar and heterogeneous objects with arrays. Create arrays of lines and surfaces in 2D and 3D.
For fast car design and styling
Modeling tools based on fast, repeatable curves, allowing you to edit and shape 3D models instantly.
Refine concept models into Class A surfaces for consumer and automotive design
Sculpt surface in 3D by adjusting the control points directly. Use curve-based tools, live models, and more.
Refine concept models into type A surfaces
View Alias content in Virtual Reality through an HMD
Create production-ready technical surfaces
New modeling techniques with general modeling using Dynamic
System requirements of Autodesk Alias Surface 2021
Operating system:

Microsoft® Windows® 7 SP1 with KB4019990 Update (64-bit only)
Microsoft Windows 8.1 with Update KB2919355 (64 bit only)
Microsoft Windows 10 (64 bit only) (version 1909 or higher)

CPU: 2.5–2.9 GHz or higher
RAM: 8 GB
Screen: 1920 x 1080 with True Color or larger
Graphics Card: 1 GB GPU with 29 GB / s Bandwidth and compatible with DirectX 11
The .NET Framework Version 4.7 or later
Autodesk Alias Surface 2021 Free Download
Autodesk Alias Surface 2021 (x64)
Autodesk Collection
Autodesk Alias Surface 2021 Product Key
Serial: 666-69696969, 667-98989898, 400-45454545
Code: 736M1

How to install Autodesk Alias Surface 2021
Turn off anti-virus software (Note also turn off Windows Defender)
Extract the downloaded file
Run the Setup file in the extracted section
Untich 3 Point (Autodesk Destop App | Atuodesk Single Sign – ON | Autodesk Genuine Service)
Just instal and wait for it to run
After running, we turn off the network first and then press Lauch(Open Software)
Select Enter Serial Number
Select Active > enter Serial Number > Next > Request an activation code using an offline method > Next > Back >> Back
Unzip Crack File and Run As Administrator
Copy Request Code paste it into Cr@ck File>> Patch> press Generate >> Copy Activation Key and paste it into the software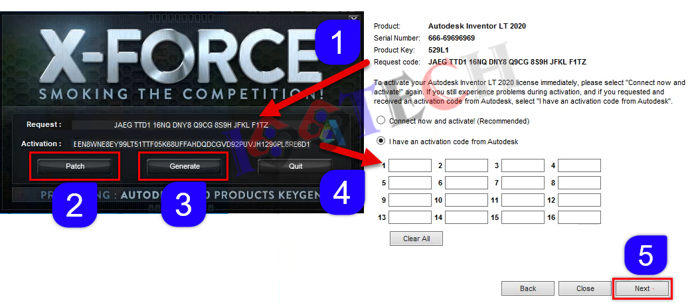 Copy Request Code to X-force
Press Generate
Press Patch
Copy Activation Key and paste it into the software
Next

Click Next and it will show up successfully message
Re-open the internet and access software normal. Good luck