Autodesk Factory Design Utilities 2021
Autodesk Factory Design Utility 2021 with this software, you can plan and confirm the factory layout for efficient equipment location that can improve production efficiency.
The Factory Design Utility provides design tools and an optimized environment for factory floor layouts. They also allow you to open the old DWG base layout and add the plant's intelligence to those drawings. Factory drawings can then be used for 3D layout in Inventor Factory. This helps narrow the gap between modeling in a 2D environment and 3D space and saves you time in the process.
Autodesk Factory Design Utility has a very efficient and well organized interface. Its easy to use interface gives you quick access to a multitude of functions. It has a very generous workspace and has many customizations available in it. It also reunites the most powerful utilities for Autodesk and AutoCAD software. You can benefit from AutoCAD Architecture, Mechanical, Inventor Professional, etc. You can also use Navisworks Manage, Navisworks Simulation, Showcase, Raster Design, ReCap and AutoCAD in it. All in all these useful utility sets really help a lot for professionals.
Features of Autodesk Factory Design Utilities 2021
Design tools for creating, publishing, sharing and managing 3D content for plant layout.
Basic layout design. Visualize and detect conflicts in large facility layout.
Reasonable design of bidding proposals and production of more attractive 3D sales tools.
Model and simulate your production processes.
Factory Design Utility software helps manufacturers of filling machines based in Hamburg,
Germany plan the entire plant and workflow. It allows the company to complete tasks with a single digital model.
Manufacturers of industrial conveyor systems use laser scanners to find potential problems and problems before starting the installation.
Engineers at the manufacturer of this heat treatment system give customers a clearer impression of the design in specific environments, reducing errors.
System requirements of Autodesk Factory Design Utilities 2021
Operating system:

Microsoft® Windows® 7 SP1 with KB4019990 Update (64-bit only)
Microsoft Windows 8.1 with Update KB2919355 (64 bit only)
Microsoft Windows 10 (64 bit only) (version 1909 or higher)

CPU: 2.5–2.9 GHz or higher
RAM: 8 GB
Screen: 1920 x 1080 with True Color or larger
Graphics Card: 1 GB GPU with 29 GB / s Bandwidth and compatible with DirectX 11
The .NET Framework Version 4.7 or later
Autodesk Factory Design Utilities 2021 Free Download
Autodesk Factory Design Utilities 2021 (x64)
Autodesk Collection
Autodesk Factory Design Utilities 2021 Product Key
Serial: 666-69696969, 667-98989898, 400-45454545
Code: P03M1

How to install Autodesk Factory Design Utilities 2021
Turn off anti-virus software (Note also turn off Windows Defender)
Extract the downloaded file
Run the Setup file in the extracted section
Just instal and wait for it to run
After running, we turn off the network first and then press Lauch(Open Software)
Select Enter Serial Number
Select Active > enter Serial Number > Next > Request an activation code using an offline method > Next > Back >> Back
Unzip Crack File and Run As Administrator
Copy Request Code paste it into Cr@ck File>> Patch> press Generate >> Copy Activation Key and paste it into the software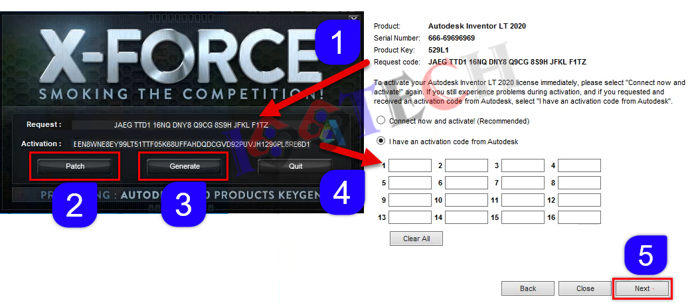 Copy Request Code to X-force
Press Generate
Press Patch
Copy Activation Key and paste it into the software
Next

Click Next and it will show up successfully message
Re-open the internet and access software normal. Good luck