Autodesk Fabrication CAMduct 2021
Autodesk Fabrication CAMduct 2021 is a powerful HVAC ducting and fabrication software application, as well as a production management tool, used to efficiently produce HVAC systems. CAMduct uses comprehensive libraries of 3D parametric fixtures and fittings to help you meet production requirements.
Features of Fabrication CAMduct 2021
Build and edit content and services in Fabrication CAMduct and use them to create ready-made models inside Revit building design software.
Create your Building Information Model (BIM) in Revit, export as a .MAJ file, and put sheet metal components into Fabrication for Manufacturing.
The new manufacturing API allows read and write access to common job items and work items.
The post processor customizes NC data configuration for your specific controller. Create a new post processor to meet the needs of your fabrication shop equipment.
CADmep fabrication, ESTmep fabrication, CAMPt fabrication and Revit fabrication can share with libraries about mechanical, electrical and plumbing content (MEP) content, as well as database installation and structure. Design, estimate, details, coordination, fabrication and manufacturing of sheet metal
Access a large library of 3D rectangular, circular and oval duct components with their related developments. The component library is available in metric or base sizes, and includes elements such as connectors, seams and grooves. You can control the requirements of each component manufactured and based on specifications such as DW144 and SMACNA.
An easy to use graphical user interface (GUI) for easy work entry for both novice and experienced software users.
Shared content CADmep / ESTmep / CAMduct allows flexible workflow to create detailed models for fabrication.
Using large parameter driven component database spec.
Metal plates and linear cages
Advanced nesting improves material usage.
NC writing and machine support
Integrated and custom post processor to speed up production. You may need to purchase a postprocessor from a third party.
Advanced job cost tool
Get a better understanding of job costs.
Additional software
Includes access to CAMduct Fabrication Components, Fabrication Tracker, and
RemoteEntry Fabrication.
System requirements of Fabrication CAMduct 2021
Operating system:

Microsoft® Windows® 7 SP1 with KB4019990 Update (64-bit only)
Microsoft Windows 8.1 with Update KB2919355 (64 bit only)
Microsoft Windows 10 (64 bit only) (version 1909 or higher)

CPU: 2.5–2.9 GHz or higher
RAM: 8 GB
Screen: 1920 x 1080 with True Color or larger
Graphics Card: 1 GB GPU with 29 GB / s Bandwidth and compatible with DirectX 11
The .NET Framework Version 4.7 or later
Fabrication CAMduct 2021 Free Download
Autodesk Fabrication CAMduct 2021 (x64)
Autodesk Collection
Fabrication CAMduct 2021 Product Key
Serial: 666-69696969, 667-98989898, 400-45454545
Code: 129M1
How to install Fabrication CAMduct 2021
Turn off anti-virus software (Note also turn off Windows Defender)
Extract the downloaded file
Run the Setup file in the extracted section
Untich 3 Point (Autodesk Destop App | Atuodesk Single Sign – ON | Autodesk Genuine Service)
Just instal and wait for it to run
After running, we turn off the network first and then press Lauch(Open Software)
Select Enter Serial Number
Select Active > enter Serial Number > Next > Request an activation code using an offline method > Next > Back >> Back
Unzip Crack File and Run As Administrator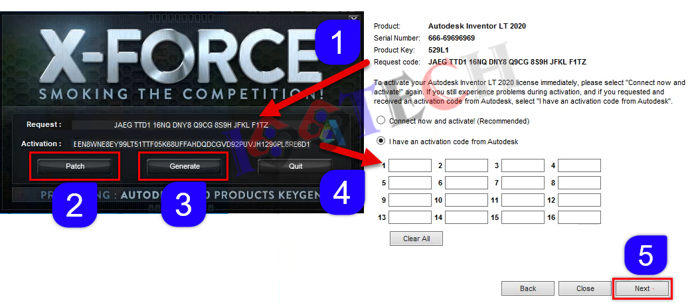 Copy Request Code to X-force
Press Generate
Press Patch
Copy Activation Key and paste it into the software
Next

Click Next and it will show up successfully message
Re-open the internet and access software normal. Good luck